Throughout their history, corsets have been almost exclusively considered underwear. It was during the Victorian and Edwardian era that, this purely functional garment was transformed into a pretty piece of lingerie.
The use of luxurious silk fabrics and delicate lace finishes allowed many corsets to become elegant components of women's wardrobes.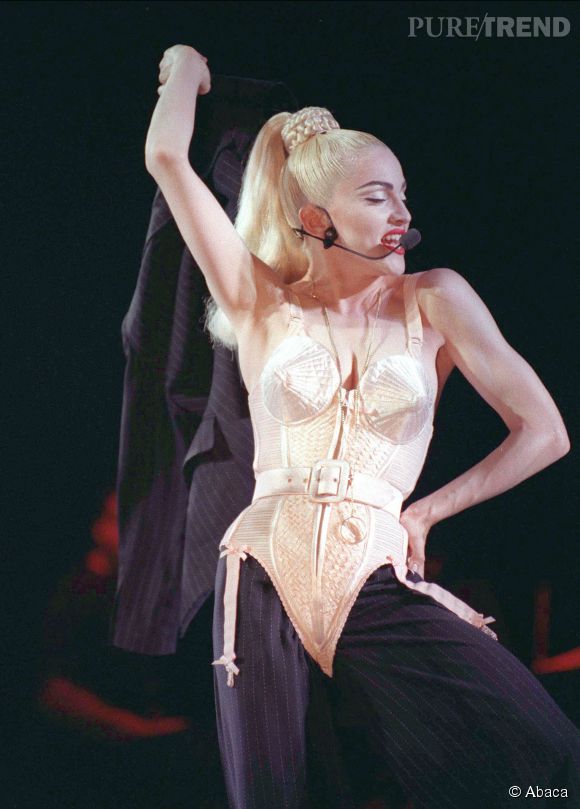 During the second half of the twentieth century, the corset falls out of favor and it is only in the 1980s that it experienced a major resurgence thanks to the corseted costumes of the designer Jean-Paul Gaultier for Madonna. This is the time the corset wants to show off!
Many brands of lingerie (Agent Provocateur, Coco de mer…) have made the corset one of their centerpiece, but the corset is made with luxurious materials and little robust, having for only purpose to enhance women's body.
Few lingerie brands sell "true" corsets, with the exception of vintage-inspired brands like What Katie Did and Kiss Me Deadly.
What Katie Did, Elsa Corset

Kiss me deadly Ivory silk corset
If there is a real cleavage between "lingerie corsets" and other corsets, the trend seems more and more to go to the corset worn over the clothes. And it would be a shame to hide masterpieces crafted and embellished with fine lace, Swarovski crystals or pearls!
The corset has become a feminine accessory, as well as high heels of stockings.
Mr Pearl corset

Mr Pearl corset
Coming out of its role of underwear, the corset leaves room for unlimited creativity.
Mr. Pearl says "corsets are objects in their own right, whether lingerie or showpiece. They're connected to shoes, hat and gloves…They exist in their own world. They are not fashion, they are beyond fashion. They can be in or out of fashion. One they were required but that time will never return…But imagine the waists you'd see! Lingerie is something very private, to be shared in private. Corsetry should be shared wherever possible".
What is your opinion? 😊